About Sheran Harper our new Worldwide President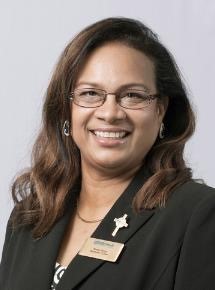 Sheran Harper was born in the United Kingdom and grew up in Guyana where she studied at the University of the West Indies School of Physical Therapy. She undertook her Clinical Practice at Guy's Hospital in London and then worked with the Ministry of Health in Guyana where she opened and managed new physiotherapy departments in hospitals throughout the country and lectured on the Rehabilitation Therapists Programme. She stopped working in this area 17 years ago to focus on her calling of serving Mothers' Union. She has served as a volunteer at all levels from Parish, Diocese and Province and is currently a Worldwide Trustee. Until recently, she was the Worldwide Parenting Trainer where she rolled out Mothers' Union Parenting programmes in 23 countries across the globe. Her expertise is often called upon and she has been a spokesperson in her region for Mothers' Union on various inter-faith, and international panels and forums.
Sheran has been married to Roger Harper for 31 years. They have two grown up sons, Richard and Reginald and a daughter-in-law, Akilah.